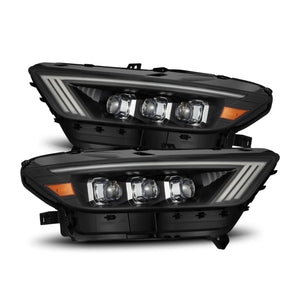 2015-2017 Mustang AlphaRex NOVA-Series LED Projector Headlights Black
Sale price Price $1,230.00 Regular price Unit price / per
PLEASE READ: These headlights are offered in Alpha-Black and standard Black. The difference is the DRL lens tint and chrome trim. Alpha-Black headlights have a smoked or "blacked out" look while the standard Black headlights have a typical OEM style clear or white look along with chrome trim. That is the only difference between the two.
These Ford Mustang NOVA-series headlights will fit the following models: 

2015-17 Ford Mustang all trims
All years S550 Mustang Shelby GT350/GT500

PRODUCT DETAILS
ALPHAREX Is a relatively new brand in the automotive aftermarket industry. They've become known for building headlights that are unique in style, offer various color choices, and excellent construction quality.
 ALPHAREX DESIGN: Alpharex Nova Series Headlights for the Ford Mustang use their signature 3D ice-cube projector lens system inside. Besides the horizontal NOVA projector row, They have also added a LED tube around the edge as DRL and sequential turn signal. The LED tube is not only used as switchback DRL and turn signal, it also has the activation light feature which is an animated lighting sequence when you unlock and lock your vehicle. These projector headlights have a triple projector design giving your S550 that new S650 style!
 ICE CUBE PROJECTOR TECHNOLOGY: AlphaRex integrated their patented Ice Cube 3D LED Projectors that are powered by Osram Black Flat LED Chips. The jewel eye projectors look great inside of the Ford Mustang Nova Series Headlights. The projection cut-off line is perfect for American LHD regulation.
 FEATURES: The AlphaRex Ford Mustang Nova-series projector headlights come with switchback DRL, sequential signal light, and the signature activation light feature, which is a sequential light show when you unlock your car.
 HOUSING: The Ford Mustang Nova-series projector headlights are offered with either a Black, or Alpha-Black housing. The Black housing and Alpha-Black housing are their specially designed versions that has a combination of glossy looks mixed with the black paint, and it will give your truck a sporty and luxury look at the same time.
 LENSES: The AlphaRex headlight lenses are made of polycarbonate plastic. They also apply a layer of anti-fog agent on the headlights lens; thus, it allows better light output in extreme weather. In addition, they also apply another coating to protect the lens against yellowing and oxidation.
 SAE/DOT COMPLIANCE: Alpharex Ford Nova-series projector headlights are compliant with SAE and DOT FMVSS108 regulations.
What's Included:
HEADLIGHTS: 2x (One Pair) Nova-Series (15-17/18-20 Ford Mustang)
WIRING: Plug and Play Harness
WARRANTY: 2 Years